Training Clinics with Connemara Equestrian Escapes are designed with riders in mind. They are practical, educational and fun!
         
Cait Goaley & Julie Goodnight
We source the best coaches to ensure our Training Clinics provide the level of instruction you need to reach- or even exceed your riding goals. This August, we are delighted to welcome US based and world renowned horsewoman Julie Goodnight.
With three clinic days at Curra Farm and a further three days based at the 4 star Renvyle House Hotel & Resort, you are guaranteed the best view of the spectacular scenery of Ireland's Wild Atlantic Way through the ears of Ireland's native horses.
Places are strictly limited to 8 riders for a more personable experience.
Dates for 2020 are as follows:
Julie Goodnight 7 Day Retreat & Clinic – August 29th – September 4th
Julie Goodnight 7 Day Retreat & Clinic – September 5th- September 11th
Click on the other tabs below for full details or Enquire Now
OverviewThe RidingItineraryAccommodationDates & PricesPhotos & VideosLocation & WeatherBook Now
  There are many horse riding vacations available in Ireland, but few offer this level of luxury with a cultural twist. Time is precious in today's world and this luxury holiday will make the most out of every moment you give it.

We want your holiday to be a unique and memorable experience.
We have handpicked our accommodation for the quality of service, award winning dining experiences and onsite facilities such as golf, fishing, clay pigeon shooting, tennis.

Our selection of Connemara ponies are home bred for their extra height, kind temperament and often quirky character and by the end of your holiday they will be your best friend. Our ponies are lovingly cared for and they demonstrate their payback in the form of trustworthiness. For the taller rider, our Irish Draught horses are often called upon to allow for a more elevated viewpoint!  

Click on the other tabs above for full details or Enquire Now
 
Our ponies and horses get the utmost respect they deserve and we encourage our riders to spend as much time as they desire getting to know their new partner for the week.
Our guests are taught to care for, groom and saddle their horses. Away from the tourist crowds, you will witness the most spectacular views of Connemara from the seat of your Irish made saddle.

Flushing out the constraints of urban life, we will awaken your senses to the miles of paths strewn with an expanse of wild flowers amongst the heather covered mountains and mystical lakes and rivers. Your free spirit will be opened as we re-kindle your natural bond with nature.

Our equines take us on a journey each day with paces that all you to absorb the scenery, air, sounds and aromas of the beauty that surrounds you. The terrain is kind but rest assured that the sure footedness of you Connemara Pony or Irish Draught Horse will take you along you trip safely.

The day's ride is never complete without a long canter to tease out the adrenaline and work up an apetite for lunch after which your daily cultural experience will captivate your mind.

Click on the other tabs above for full details or Enquire Now  
Description: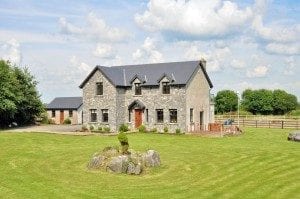 Nights 1,2 & 3: Curra Farm B&B
Curra Farm House our Irish guide Cait's B&B. Situated on & Lough Corrib it features 4 bedrooms with shared baths for guests, a cozy open concept kitchen/living room/dining room with a large purpose built riding arena overlooking Lough Corrib, the largest lake in southern Ireland! Surrounded by stone walls, this B&B and it's surrounding farm land is sure to be well enjoyed. Visit    https://connemaraequestrianescapes.com/our-partners/our-hotels/curra-farm/ for more information.
Day 1 You will be collected at the tourist office in Galway city to travel to Moycullen, at the gateway to Connemara and then on to Curra Farm, the breeding ground of our Connemara Pony herd. Before your riding adventure begins you'll have an opportunity to settle in, relax in your room, refresh in the bath or take a walk around the farm. Once you've settled in we will have a quick familiarization with our tack and the English style of riding before being paired up with the Connemara Pony that will be your partner for your vacation. You will be joining Julie Goodnight in the arena as she coaches you on the "Golden Moments" with your new equine partner and after an initial assessment in the outdoor arena, you will be ready to set off for a short trail ride around the farm before our chef cooks a traditional Irish meal in the comfort of your home away from home. Relax on out boat shaped deck or have a glass of bubbly in our outdoor hot tub...
Day 2 Today our ride takes us to the beautiful outdoor arena and we will continue our adventure of strengthening our partnership with our new mount under Julie's tutelage. After enjoying our clinic with Julie and grooming the ponies down after the long ride, you will have a chance to refresh yourself before we visit the home of Connemara Marble and onwards for a tour of Aughnanure Castle. This evening, we will light up the BBQ and enjoy a relaxing evening on the boat shaped deck in the garden with wonderful views of Lough Corrib.
Day 3 Today, now that your pony/rider relationship has developed, you will have a chance to improve your English riding skills in the arena with Julie. We can practice our dressage skills and the grand finale will be our musical group ride. You choose the music and you will be surprised at how synchronized the ride will look when we play it back later on the TV. After lunch we travel to Bridgits Garden for a tour and time to relax in the cleverly landscaped representation of the four Celtic seasons of the year. Tonight we dine out in one of our local award winning restaurants to sample Irish style gourmet dining at its best. Schedule subject to change.
Nights 4,5 & 6: Renvyle House Hotel & Resort
The historic Renvyle House first opened as a hotel in 1883. The bedrooms vary in size and style but all in keeping with the features of the historic house. The characteristics are simple, clean lines and the use of solid Irish oak and furniture are apparent throughout.  The fabrics and furnishings are, as much as possible, made and woven by skilled local craftsmen. Onsite facilities (all free of charge) at the resort include an outdoor heated swimming pool, a seaside outdoor hot tub, a 9 hole golf course, tennis courts, beautiful garden walks, bowling greens, fishing, lake boats, kayaks. Visit https://connemaraequestrianescapes.com/our-partners/our-hotels/renvyle-house-hotel-resort/
Day 4 Today we pack our bags, horses and tack for the onward transfer to our second accommodation, the wonderful Renvyle House Hotel & Resort. En-route, we visit the hidden treasure of Glengowla Silver Mines where we descend over 120ft in into the mine shaft to witness the hardship of the mining industry that many locals endured to survive centuries ago. The owner Keith will take you on a tour of the onsite "Klondike" film set before he gives us a working sheepdog and turf cutting demonstration. After check-in at the 4 Star Renvyle House Hotel & Resort, your ponies will be ready for a ride around the 150 acre hotel property, taking in the spectacular views while soaking up the fresh Wild Atlantic Way air. This will work up your apetite for the 5 course meal ahead, to be prepared by Renvyle's award winning chefs. A tour of the Abbey, the Gothic Church and the spectacular walled gardens. After lunch at the abbey, you will be met for the short transfer to the hotel located on the Renvyle Peninsula where you can relax after a quick tour of the grounds to see what the resort has to offer. We ride around the peninsula in the late afternoon for spectacular views of the Wild Atlantic Way coastline. Dinner will be prepared by Renvyle's award winning chefs. Prepare to indulge in one of the finest 5 course meals you have ever experienced!
Day 5 After being spoilt by choice with the extensive "cooked to order" breakfast menu, we travel though the Quaker village of Letterfrack, the home of Connemara National Park, to the grounds of the wonderful Kylemore Abbey. We normally allow 3 hours for this tour, taking in the abbey itself, the spectacular gothic church (modelled on some of Europe's biggest cathedrals) and the wonderful walled gardens. Our ride today takes us around the Renvyle Peninsula. More spectacular scenery and history talks along the way allow us to envisage the life and traditions of the generations gone before us. Later, at the hotel, take a dip in the ocean, the outdoor heated swimming pool or Canadian Hot Tub, of simply relax with one of the many books in the hotel library before dinner.
Day 6 Today we will load up the horses for our trip though Clifden town where you will have an opportunity to stop and stroll around the town and maybe visit some the Connemara Pony Museum and some of the gift shops and art galleries before our ride at the wonderful Omey Island. Omey is a tidal island situated near Claddaghduff on the western edge of Connemara. From the mainland, the island is inconspicuous and almost hidden. At low tide, it is possible to ride, drive or walk across the large sandy strand to the island by following the arrowed signs. Again, the pace will be your choosing and if you dare, you can even swim with your horse before we stop off at the local pub with spectacular views of the island for a chowder or fresh crabmeat salad to name but a few choices from the menu. Dinner that evening will be served at the hotel.
Day 7 Today, after a hearty breakfast you will say farewell to the ponies and horses and your private coach will take you from Renvyle House back to the Tourist Office in Galway City for your onward journey. Click on the other tabs above for full details or Enquire Now
  Curra Farm 

Renvyle House Hotel & Resort      
Click on the other tabs above for full details or Enquire Now  

Dates for 2020 are as follows:
Julie Goodnight 7 Day Retreat & Clinic – August 29th - September 4th
Julie Goodnight 7 Day Retreat & Clinic – September 5th- September 11th 
Email us in info@connemaraequestrianescapes.com to register your interest
Minimum group size is 6.
Maximum group size is 8.
Individual/solo traveller bookings welcome.
All levels of riders catered for.
Price is €2,950 (Euro) per person sharing.
Places on the Julie Goodnight Clinics sell out fast so choose from one of the 2 dates above and drop us an email to secure your place!


What's included in the trip :

Pickup and dropoff to from Galway City at start and end of trip
All internal transfers while on the trip
All meals - breakfast, lunch and dinner
All riding activities
3 Clinic Days with Julie
All cultural tours with Cáit

Click on the other tabs above for full details or Enquire Now
Click on the other tabs above for full details or Enquire Now  
Not too hot and not too cold – you'll find Ireland's climate just right!
In Ireland, everyone talks about the weather. Whether it's discussing the direction of the rain from a supermarket doorway, or musing that it's 75°F in March from a bar counter. Irish weather can be unpredictable, so we like to discuss it. A lot! Ireland's climate is influenced most by the Atlantic Ocean. As a result, it doesn't have the extreme temperatures that other countries at similar latitude would have. The average temperature is a mild 50°F. A major warm ocean current called the North Atlantic Drift keeps sea temperatures mild too. Hills and mountains, mainly around the coast of Connemara, shelter the rest of the island from strong winds coming off the ocean. So while the weather can be changeable – it's rarely extreme.
The seasons: spring and summer
In spring (February to April), the average highest temperatures range from 46 to 54°F, with April considered particularly pleasant. In summer (May to July), the averages for highest temperatures are between 64 and 68°F. The warmest months, July and August, get about 18 hours of daylight and it gets dark only after 11pm. Hence the well-worn phrase in Ireland; "sure there's a grand stretch in the evenings".
The seasons: autumn and winter
In autumn, (August to October) highest temperatures hit between 64 and 57°F. September is considered a mild, temperate month. Winter air temperatures inland normally reach 46°F, while the coldest months are January and February. The temperature drops below freezing intermittently, and apart from a few freak cold snaps, snow is scarce.
When to visit Ireland
There's no such thing as a perfect time to visit Ireland. The summer months are considered high season for visitors. They come for the long sunny evenings, parks in full bloom and eating al fresco in cafés. And of course in summer, there are festivals around every corner. Autumn and spring are mid-seasons for travelers. You'll enjoy kicking bronze-burnished leaves about in autumn, while spring sees nature kick into gear and flowers blossom. As for winter, a walk through a national park on a clear, crisp winter's day can mean seeing nature at its most impressive.
  Click on the other tabs above for full details or Enquire Now
Click on the other tabs above for full details or Enquire Now